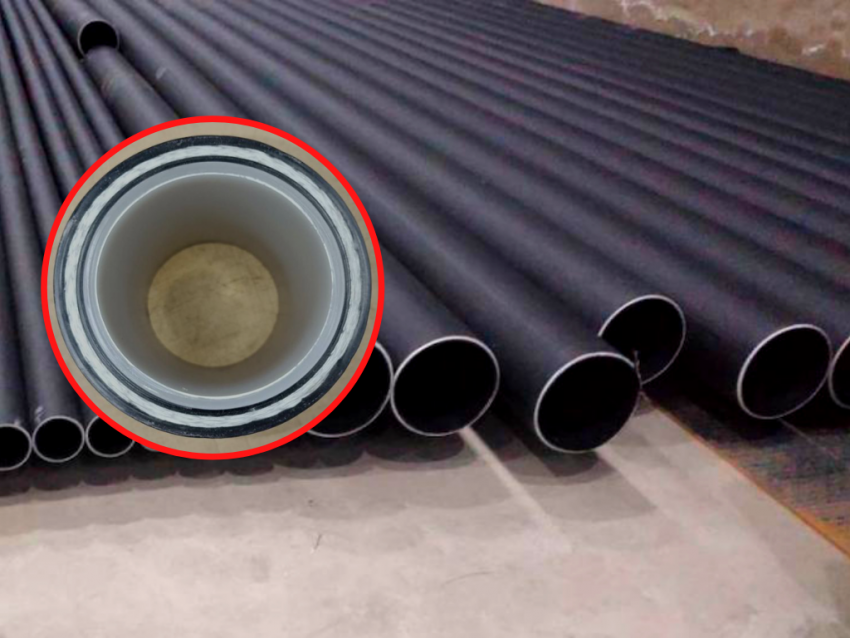 There's a new pipe in town. Well, it's actually available anywhere in the world, so let's go and meet the next generation in pipeline technology for infrastructure and industrial installations.

The name of this next generation pipe is a bit of a mouthful, but you'll soon be singing its praises. It's called glass fiber reinforced polyethylene composite pipe (GFT-RTP). It's a composite pipe product constructed from three layers.
The core is a belt wound high strength glass fiber reinforced composite, which is wound around the outside of the inner tube in both positive and negative directions, forming the reinforcing layer. Fused to the outside and inside are layers of high-density polyethylene.
As pipe technology goes, GFT-RTP is streaks ahead of current market products. This new technology results in a pipe product that is stronger, thinner, lighter and cheaper to manufacture than HDPE or other types of FRP or GRP pipe.

Just how much technology can you fit into one pipe? The answer with GFT-RTP is quite a lot. Manufacturing is a finely-tuned process run by bespoke computer software. Depending on the required application, it calculates the thickness of the glass fiber core to meet the demands for pressure under load, including the thickness of the outer wall.

The winding machine that makes the pipe is also new technology, which achieves online exchange of tape and continuous production. This is a significant breakthrough in the production of large diameter RTP.
The entire production line is a computer controlled, simple operation, which produces a consistent, stable and quality product. All waste from the production process can be recycled and used for drainage pipes or granulated for injection products.

At present, the pipe has mostly been adopted by the oil industry, but its construction makes it suitable for any type of industrial installation or for infrastructure. GFT-RTP is a patented product, manufactured in China and able to be shipped anywhere in the world.
An issue with shipping pipe is it takes up rather a lot of space. While this won't be a problem for specific projects or installations, if your demands are much greater or you need an ongoing supply, you'd want more assurance with your supply chain, especially if you're working to strict time constraints.

This is why we're offering opportunities to set up factories in your country with the rights to manufacture and distribute the product to domestic customers. Contact us if you'd like more information. Or simply get on the pipes for more information, including technical specs, about this great new product.
---